Here is our review of Motorola Xoom skins. We have concluded on two lists. One is for most protective and the other is for most stylish skins, screen protectors.
Best Protective Scratch Resistant Skins for Motorola Xoom
This is also the best selling and highest rated skin on Amazon. It provides the best screen protection for the tablet. The skin is made from virtually indestructible and invisible thin material which is also used in military industry to protect aircrafts. Because of this, it is an expensive accessory but you get the top quality you pay for.
The skin also features a special ultraviolet rays protection layer. It is a nice add-on which many other skin brands lack. It prevents the skin turning into yellowish color by time under the harmful effects of these rays. (read all specs on Amazon)
If you follow the instructions, it is an easy to apply Xoom skin without bubbles. If there will occur a few bubbles, these are also easy to eliminate with application card (included in the package)
The company provides full life time warranty on Skinomi Techskin for Motorola Xoom.
Invisible Shield for Xoom tablet by Zagg
Invisible Shield is the most known brand in the skin market for gadgets and devices. Zagg introduced three different variants for Xoom tablets. One is only for screen, the two others provide full coverage of the body of the device. The difference is in detail on the last two mentioned. We have provided images for all models below for your comparison.
Screen Only
Full Body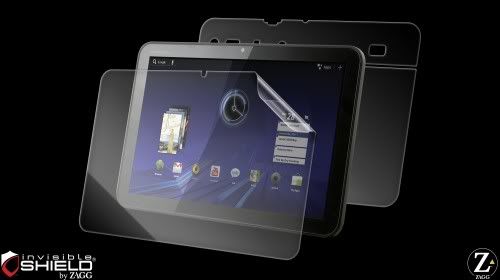 Maximum Coverage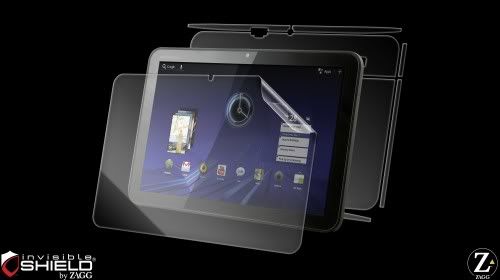 The features and overall quality are very similar to Skinomi but Motorola Xoom Invisible Shield is more expensive.
Stylish Xoom Skins
In case you are looking for a skin which will turn heads to your Xoom in public, the best website to shop is www.SkinIt.com. This company is one of the market leaders in artistically designed skin market and gives you a chance to personalize your Xoom as well with your own designs if you prefer.
There are hundreds of different Xoom skins on many categories. Well, it is hard to choose skins which will please all. It is a matter of taste. Because of this, we will inform you about some of the key features of SkinIt Motorola Xoom skins.
They use premium quality graphics with vibrant colors. The material is 3M Vinyl which enables easy application on the device, plus it will not leave any sticky residue if you decide to remove/change it later.  The skins are low profile. It means that they will not interfere with accessories, especially with docks.
Buy one for you on SkinIt.com now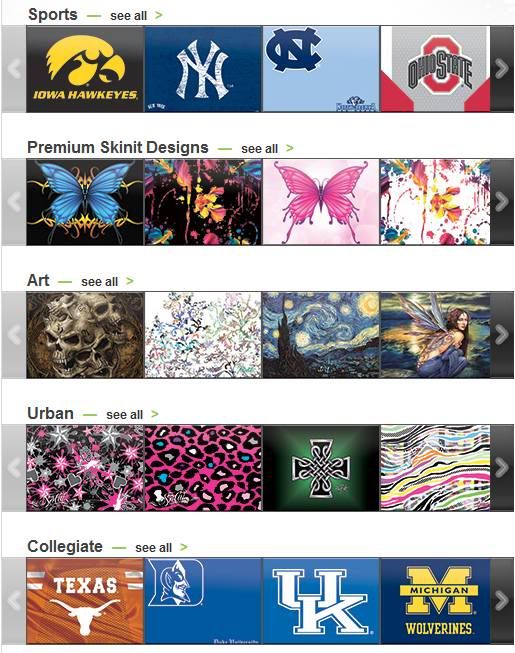 There are some other skins on Amazon for Xoom Android tablet, but we don't essentially suggest them. If you prefer to compare these skins, please click here.
If you liked this review, please spread the love for Motorola Xoom and share this review with your friends and social network.